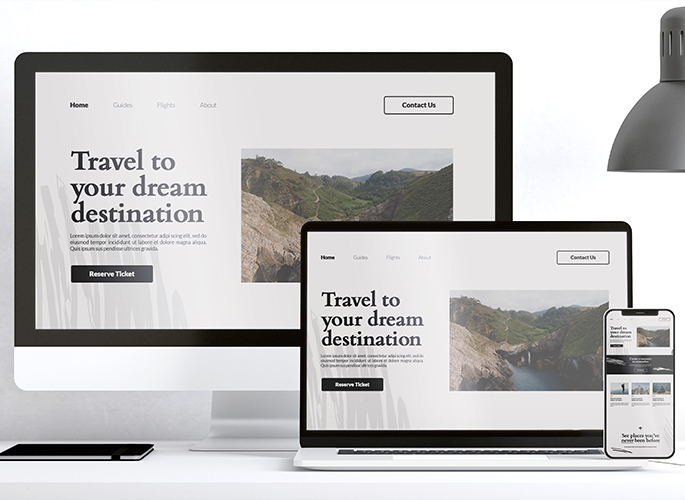 Development of Websites
In today's digital age, having a strong online presence is essential for businesses and individuals alike. One of the key components of establishing an online presence is the development of a website. A website serves as an online storefront, a virtual platform to connect with customers, and a hub for sharing information and engaging with your target audience.
Website development is the process of creating, designing, and building a website from scratch. This process involves several steps, including gathering requirements, designing the site's layout, creating visual elements, developing the site's functionality, and launching the site.
At the heart of website development is user experience (UX) design. UX design is the process of designing websites that are easy to navigate, visually appealing, and intuitive to use. A good UX design ensures that visitors to your site can quickly and easily find the information they need, navigate through the site's pages, and engage with your brand.
Effective website development also requires a strong understanding of web development technologies. This includes expertise in programming languages such as HTML, CSS, JavaScript, and PHP, as well as experience with content management systems (CMS) such as WordPress, Drupal, and Joomla.
At your website development service, our team of experienced web developers and UX designers have the skills and knowledge necessary to create high-quality, custom-built websites for businesses of all sizes. Our website development process is tailored to your specific needs, from initial consultation to launch, to ensure that the final product meets your expectations and exceeds your goals.
We believe in working closely with our clients throughout the website development process, to ensure that the end product meets their needs and aligns with their brand. We take the time to understand your business, your target audience, and your objectives, so that we can create a website that meets your unique needs and engages your customers.
Our website development services include website design, website development, website testing, website maintenance, and website support. Whether you're looking for a simple brochure website or a complex e-commerce platform, we have the skills and expertise to deliver a website that meets your needs and exceeds your expectations.
In conclusion, website development is a critical component of establishing a strong online presence, and working with a professional website development service can help ensure that your website is effective, engaging, and successful in achieving your business goals. At our website development service, we're committed to delivering high-quality, custom-built websites that help our clients connect with their target audience and achieve their objectives.
Here are some benefits of taking website development services from us:
Customization: We offer customized website development services tailored to your specific business needs. We will work with you to create a website that is unique and aligned with your branding, goals, and objectives.
Expertise: Our team of experienced web developers and UX designers has the expertise and knowledge necessary to create high-quality, visually appealing, and user-friendly websites.
Increased Visibility: A professionally developed website can increase your visibility online, helping potential customers find you more easily.
Improved User Experience: Our UX design experts work to create an intuitive and user-friendly website that provides a positive user experience, helping to keep customers engaged and more likely to convert.
Mobile Optimization: With the growing trend of mobile device usage, we ensure that all of our websites are optimized for mobile devices, providing a seamless experience for mobile users.
SEO Optimization: We can incorporate Search Engine Optimization (SEO) best practices into your website design, making it more discoverable and improving its ranking in search engine results pages.
Faster Load Times: Our web developers optimize website loading times, ensuring that your website is fast and responsive, which is critical to maintaining user engagement.
Security: We prioritize the security of your website and ensure that it is secure and protected against potential attacks and threats.
Cost-Effective: Investing in a professional website development service can save you time and money in the long run, as it ensures that your website is built on a solid foundation and reduces the likelihood of issues or errors down the line.
Technical Support and Maintenance: We provide ongoing technical support and maintenance for your website, ensuring that it remains up to date and running smoothly. This allows you to focus on running your business while we take care of the technical aspects of your website.
In summary, working with our website development service can provide your business with a professionally developed website that is customized to your specific needs, improves your online visibility, provides a positive user experience, and is secure and well-maintained. Contact us today to learn more about how we can help you achieve your online goals.